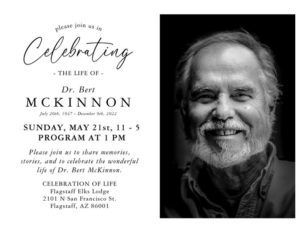 Bert McKinnon was one of the founders of Northern Arizona Volunteer Medical Corp (NAVMC).  He travelled with surgical teams to Armenia and Brazil, where he faced the challenges of providing surgical care with limited resources.  He provided the highest quality of orthopedic care to his patients in Northern Arizona and was a major influence in my early career.
Bert travelled to Armenia in the winter of 1995 with Cindy McCain's group, Arizona Volunteer Medical Corp.  There he worked in a hospital with no electricity except for the operating theater.  Water spilled on the hospital floors, froze.  Hot water was available for one hour twice weekly in the hospital and their hotel.  During a subsequent trip to Brazil in 1997, he faced a Brazilian man with an untreated, fractured leg, having available a single metallic plate that was too long to be used for its repair.  In typical MacGyver fashion, Bert sterilized a metal saw which he used intra-operatively to cut the plate.  In a procedure started after midnight following 12 hours of surgery, his surgical team repaired the leg.
Bert was moved by the suffering that he witnessed on these medical missions and along with Kelly Reber and Karen Litman, founded NAVMC in 1998.  The organization has had over 50 medical mission trips since its founding.  It has saved lives and brought relief to thousands across the globe.  It continues this work even today in Haiti and Bolivia.
Bert McKinnon passed on Thursday December 9, 2022.  He leaves behind a loving family, friends and a community that has reaped the benefit of his work.  Bert was a mentor to me when I arrived to work in Flagstaff in 1992.  He was "solid" and represented the best of our profession.  He provided me with wisdom and guidance through my early years.  He introduced me to an organization that has changed my life and put me on a path of international relief.   Our world is a better place because of Bert's contributions.  He will be missed, and his contributions not forgotten.