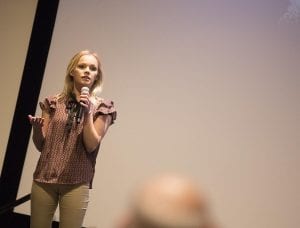 Sex trafficking can be a hard issue to approach in a community, but it is not impossible, according to two members of ARISE Project for Humanity, founder Williamson Sintyl and board member Coco Berthmann.
As a part of ARISE, Sintyl runs a mentorship program in Haiti to help women and vulnerable children advocate for their own safety to help them avoid becoming a victim. Berthmann was born into a family of sexual traffickers in Germany. She was forced to work for sex until she was 15, when she escaped. She is currently studying to become an international human rights attorney.
Berthmann, now 25, said if she had not escaped her life of being trafficked for sex, she would be dead.
"I have seen children being murdered in trafficking. I have seen babies raped. I go to sleep every night and I have the images. I know what happens when I am going to sleep," Berthmann said. "I cannot know I will live peacefully knowing there are still so many slaves out there that are being tortured. This is what drove me to action to say, OK, I have a story. I survived. I'm going to use it for good."
The Flagstaff Initiative Against Trafficking helped organize the event for Berthmann and Sintyl at NAU Cline Library and is a local agency that found 188 adults and 32 youth who experienced trafficking last year. Berthmann explained the signs of trafficking at the event and what tips help national hotlines and law enforcement save victims from trafficking.
"You have been around human traffic victims, and I'm super sure you have been next to one," Berthmann said. "You can find them every day in every country."
Berthmann described the United States as the capitol of human trafficking. In 2018, there were 400,000 people reported as slaves in the United States and 20 million worldwide. She described sex trafficking as a $150 billion enterprise.
Trafficking victims can work from ages 17 to 21 and can make their captors $4,000 per day, Berthmann said. If the trafficker has multiple victims under their control, they can make upwards of $100,000 in a week.
"Let's look at gun crimes and drug trafficking. If you want to traffic a drug or a gun, you can sell it once," Berthmann said. "If you want to traffic a human being, you can traffic or sell a human repeatedly — over and over again."
Berthmann's mother sold her for sex where she was born in Germany. She described a life that appeared normal in many ways — going to school and dance classes. But as soon as the door closed, she said police officers, lawyers, doctors and teachers would objectify her and purchase her and her siblings from her family.
She said her family life and lack of education kept her from understanding her situation until after she escaped.
"We moved at least once a year. I was in 16 different schools," Berthmann said.
Berthmann listed signs to spot traffickers and human trafficking victims: to be aware of controlling men or women who won't let their children speak for themselves; young children with tattoos or brands; or children that are malnourished or have serious dental issues.
Sintyl said after he survived the 2010 Haitian earthquake, he eventually was able to move to the United States. On a return trip, his younger sister woke him up at midnight to tell him that her teacher was exchanging good grades for sex, and that she did not want to trade sex for an education.
After his sister came forward to him, Sintyl created ARISE to start mentorship programs for children in Haiti and teach them about sexual violence and how to better shield themselves from it.
"We teach the principles, the tools that will really change their mindsets," Sintyl said. "Because once you've been trafficked, you will still think they are an object. We try to change that victim mentality into a victor mentality."
Scott Buffon can be reached at sbuffon@azdailysun.com, on Twitter @scottbuffon or by phone at (928) 556-2250.