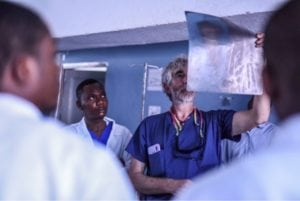 Charles' thigh was crushed in a motorcycle accident 6 months ago.  He was able to find the funds to have it fixed then.  Six months later he is still in a hospital lying in the men's ward with 8 others.  He has been bedridden since then swatting flies and struggling with the heat and humidity that permeate the room.  When family are around, they bring him food.  Infection pours out of his leg and the antibiotics he takes when he can afford them do little to turn the tide.  He has needed surgery for months but does not have the money to cover the costs of wound debridement and dressings.  When we remove the soiled 5 day old dressings, he asks us to save them as he cannot afford new ones.  We will bring him to our hospital on Thursday and try to save his leg.  We will provide the funds and the supplies that will hopefully bring him back to a productive life for him and his family.  Joseph from our own hospital was not so fortunate and he lost his leg today from injuries that could not be treated adequately.  We saved his life but he has no real concept of this.
Today started with a visit to La Paix hospital in Port-au-Prince, the second facility of two in the country that care for patients without insurance (about 90% of Haitians).  During our hospital rounds with the Haitian Orthopedic residents we identified 10 who need immediate surgery, we will be able to help perhaps 4 of them.  The rest, the "unchosen" will not get the care they need.  Most of them will be crippled, some will lose limbs.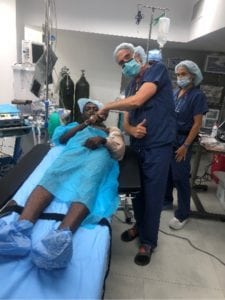 We were able today to repair 3 limbs in patients who would not have otherwise received care without our assistance.  They will return to normal lives here in Haiti. Toussaint's thigh fracture was repaired today.  He waited 6 weeks for us to come. He now has the opportunity to get out of bed, to walk and to provide for his family.  Frantz is 23 years old and has an upper arm fracture that was not healing. We repaired this today and hopefully he will return to work soon.  He thanks us for this opportunity….
Emotions in our volunteers fluctuate in highs and lows that we rarely experience in our protected lives at home.  The contrast of sadness to exhilaration is confusing but at the end of the day I think we find peace in that we are part of something larger; able to help some, to teach others to help many, and to improve the quality of medical care in the midst of an austere environment.  With each trip here, I see improvement in quality indicating the progress to which we have contributing.  NAVMC is such an important part of the lifeblood of the hospital and the people of Port-au-Prince.  We continue to make our mark here thanks to your support.
Thank-you
Bull Durham
Follow our Blog on:
www.navmc.org