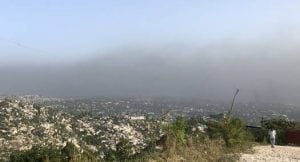 Today has been a day of rest and unrest.  We are safe in the compound around Adventiste Hospital resting after a long and stressful day yesterday.  The streets of Port-au-Prince are filled with burning tires and the air is black over the city.  In the distance we can hear occasional gunfire and protesters screaming.  A fuel price hike has sent some of the people to the streets in protest.  Internet is spotty and we are not getting much information.  All flights out of Port-au-Prince were cancelled today as the violence shut down the airport.  There has been no threat to us and I don't expect any.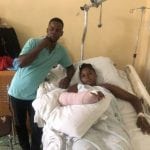 Our patients are recovering well and thankful for what we have done for them.  Today they begin their return to their normal lives.  Rose was very anxious to see pictures of the tumor we removed from her arm.  She is glad to be rid of it having carried it around for two and a half years.  Love Daly is in some pain after her surgery but grateful nonetheless for her new leg.  I am thank-full it is over and ready to return home.  Tomorrow I am hopeful we can get to the airport and head home.
Thanks again for your support.
Love from Haiti.
Dr Bull