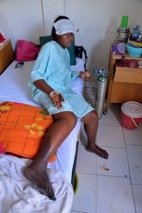 Molhenne was supposed to die. When our medical team left Haiti in December 2017, her blood count was insufficient to sustain life especially in someone who had just lost both of her legs. She has been HIV positive since birth and medications had kept the virus at bay. At 17 years old she presented to us at a hospital in Haiti with feet that had suddenly become mummified.
We still do not know the reason. The day she arrived at the hospital, our entire team of 15 huddled in the operating room till late at night as two of our surgeons performed the first of what would be three surgeries on her that week. In the last, we removed both of her legs through the knee joints. We had little hope for her as we were leaving. She like many is the victim of an inadequate healthcare system where the vast majority lack access to any real medical treatment.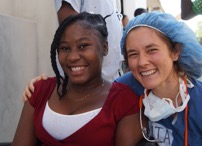 Last week Molhenne came to visit us, a new team of 18 volunteers at Bernard Mevs Hospital in Port-au-Prince. This amazing young lady is lovely, vibrant, strong and full of life and appreciation. Everyone at the hospital remembered her and tears flowed freely. She is getting back in school and is currently being fitted with prostheses for her amputated legs; funded by a donor recruited by NAVMC. Somehow, she was not supposed to die thanks in large part to the work of our team of volunteers.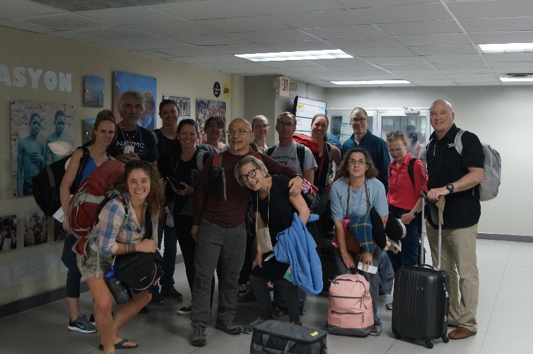 On December 1st, a team of 16 medical volunteers travelled to Haiti for our 33rd trip since the earthquake struck this impoverished country almost 9 years ago.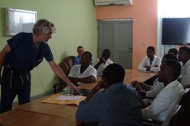 We were able to operate on 25 people most of whom waited for us for weeks to months. Our team worked with and taught Haitian physicians in training from the two state hospitals in Port-au-Prince.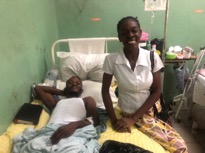 These facilities are filled with orthopedic patients who cannot afford any medical supplies or equipment. Last June one of them begged us not to discard the week-old bandage we removed from his open right lower leg fracture as he could not afford a new one. We were able to help him during that visit and he came back to us last week walking on a healed limb. There is a great sense of satisfaction in helping these patients but even more so when watching the local orthopedic residents in training perform the surgeries under our tutelage.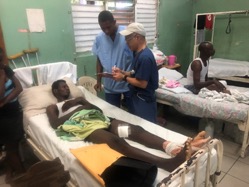 Yonel is a 28-year-old male who suffered an open femur fracture in a car accident several weeks prior to our arrival. He had no money to pay for any supplies. He lay in bed in traction provided by a coke bottle filled with dirty water hanging over the end of his bed and attached by a string to his left leg.
Soon after surgery performed by the by the Haitian residents, assisted and funded by our team, Yonel was able to get out of bed and return home.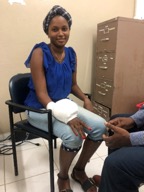 Rose underwent removal of a massive tumor from her right arm in July 2018. Her surgery was orchestrated, funded and performed by our team in conjunction with two surgeons from Loma Linda, California. She returned to see us last week with a functioning hand which she uses for all activities.
She is hoping to return to school and hopes one day to be a nurse.
Woodjina is a 7 year old girl whom we have been treating for 2 years for severe infections in the bones of both of her legs. She is doing well following 4 surgeries to rid her of some remaining infection. She was dying when we first met her in December 2016.
At the end of the trip the Haitian residents came to us excited and appreciative for the opportunity to perform surgeries on their patients, those they had been following for weeks unable to treat lack of resources. Many other patients left behind will continue waiting for another team and most will never have their broken limbs repaired.
Our electrical team was at Renmen Orphanage in Port-au-Prince at the same time. Home to 50 children, we have provided for their education for the last 6 years. The team continued one of our ongoing projects, rewiring the entire orphanage. Prior to this visit, kids would get shocked just touching the walls of their dorm and others were probing with sticks exposed wires in open outlet boxes. The electrical team was able to finish the rewiring of the remaining dorms and also were able to help set up a new water pump to provide water for the kids. The needs here are many.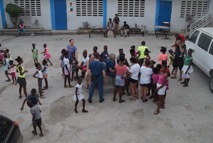 The highlight of this visit to the orphanage however is spending time with the kids. 
The small children thirst for any attention and the older ones are anxious to share what they are doing in school and what they want to do as a profession. Through our efforts, five girls have graduated from college in Haiti including three from nursing school one from laboratory technology and one from a hotel and restaurant program. By May of 2019, two more will have graduated from Northern Arizona University with degrees in Hotel Restaurant Management and Social Work.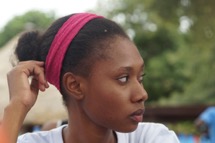 We are currently sending eleven kids to post-secondary education: one to medical school, two to nursing school, one to law school, and 7 others are in university pursuing other degrees. When I first came to Renmen eight years ago these kids had little hope of an education beyond elementary school. None could tell you what they would do as adults. Now they all know.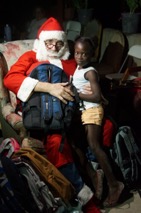 Our trip ended with a visit from Santa Claus. Each child received a personalized backpack filled with gifts, their name embroidered on the front.
Thanks to you, we can continue this work in Haiti, Bolivia and here at home.
Happy Holidays
Bull Durham