Genese's smile would light up the earth on a cloudy day.  She came running up to Dr Hippolyte and me and gave me an embrace that brought tears to my eyes.  She lost everything to Hurricane Matthew which ravaged Haiti in October 2016.  Hundreds maybe thousands died, including her husband and young child.  Her house in Jeremy was destroyed.  With multiple injuries, she was the first one flown out of the hurricane theater.  Hippolyte repaired most of her fractures but called me in Arizona for help with her severe wrist injury.  There is no hand surgeon in Haiti.  Genese is the reason that Pete Brainard CRNA and I returned to Haiti shortly after Hurricane Matthew.  We repaired her wrist and have taken her to surgery several times since to complete the reconstructions that have given her a functional arm. She is now healed from her injuries.
Flagstaff's own Jake Bacon went on a campaign last week to raise money for Genese to reopen her shop in Jeremy.  Today I gave her those funds and we helped her open a bank account.  Tomorrow she heads off to Jeremy to start up her new life.  She was shaking with excitement as she gave me a departing hug.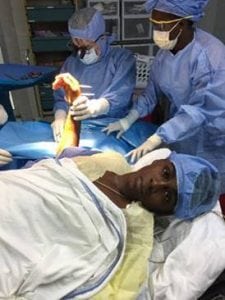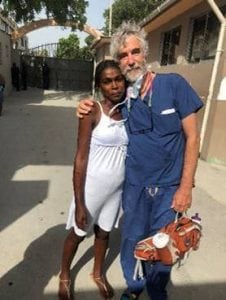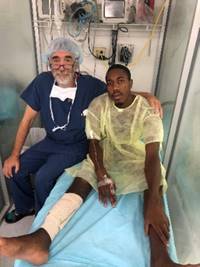 Paret is 26 and suffered a right lower leg fracture in a motorcycle accident in November 2017.  He was one of the lucky ones, his fracture was treated with a metal plate.  He was one of the unlucky ones, it became infected.  He has a wound that has been draining with infection for 6 months, his fracture unhealed.  Lying in bed at the General Hospital in Port-au-Prince, he had no real chance of saving his leg.  As most Haitians, he has no health insurance and no funds to cover his medical care.
Today we removed the infected plate and dead bone, placed a flap of muscle from his lower leg over the exposed bone and have given him his only opportunity to save his leg.   I cannot begin to describe his emotions of joy and surprise when we told him we though he would keep his leg.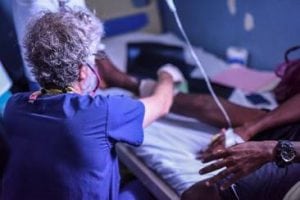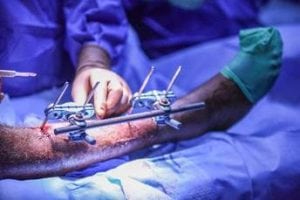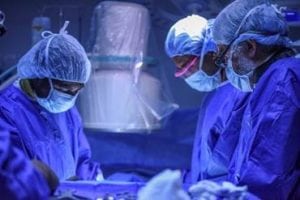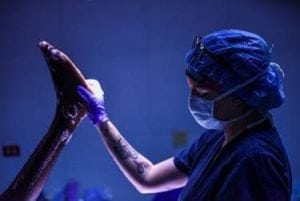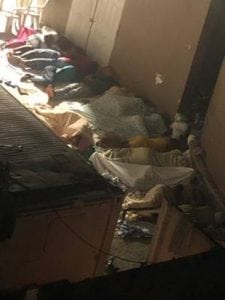 Today we also treated Frantz for a femur fracture from an injury in early April. Both legs were broken but he could only afford to have one fixed, he chose his right leg.   He has been waiting for 2 months for a team who would treat his left leg.  At 19 he now has both legs repaired and provided they do not become infected, he may be able to find work.
Tonight I will sleep in a bunk in a room that has air conditioning with several other volunteers.   I will get a reprieve from the 90 degree temps and humidity.  The men's bath room is across the hall with running water.  I will be able to shower in the morning. I have had a nice dinner.  The patients' families will sleep again tonight on the streets inside the hospital.  Bless them for the care they provide their loved ones.
Thanks for your support.
Dr Bull