Large balloons with glow lights inside bounced over the heads of the 50 children at Renmen orphanage last night, suspended in the air by little hands reaching for the sky.  The courtyard was vibrant with the screams of delight as they ran around hand in hand with the volunteers.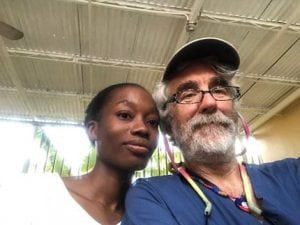 Our trips always end with a night at Renmen.  Emotions run from great joy while playing with the kids to that sinking feeling of what their lives are like here.  They are fed and educated yet we all wonder what life would be like without the constant love of parents.  We ended the evening talking with the older kids and hearing their stories and dreams.
Ange has graduated from nursing school and is working at St Lukes Hospital,
Kerline is graduating from nursing school next week, Luscerme is in her second year of medical school and wants to go into orthopedics, the list goes on and brings a sense of accomplishment that our gift of education to them is paying off in spades.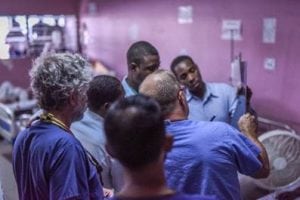 The last few days at he hospital were a challenge for our small team.  They showed resilience through the long days, the difficult surgeries, the inadequate equipment all in the midst of the austere environment that working in Haiti provides.  Our OR team worked as a team together helping out one another as the stresses of the days increased.  They are rock stars and without them nothing we did would have been possible.  We performed 22 surgeries on 20 patients most of whom waited 6-8 weeks for us to arrive.  The next foreign medical team will return to Haiti in September, a long time to wait for those that will sustain injuries these next 3 months.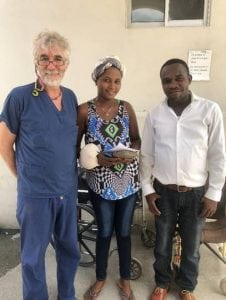 The orthopedic residents worked with us and were so thank-full for the care and the teaching we provided.  They are the real heroes.
Our nurse anesthetists brought with them their skills in performing spinal and regional anesthesia (using local anesthetics to block the arms and legs we repaired).  They worked closely teaching the Haitian Anesthesiologists who were hungry for the knowledge and skills they learned.  Once again, NAVMC has had a substantial impact on the people of Haiti.
I will return in 2 weeks to assist in the treatment of Rose's large wrist tumor and then we as a team will return again in December.
I cannot tell you enough how much I appreciate your help.  Medical trips are expensive and without the financial support that our donors provide, we would not be able to continue to return.