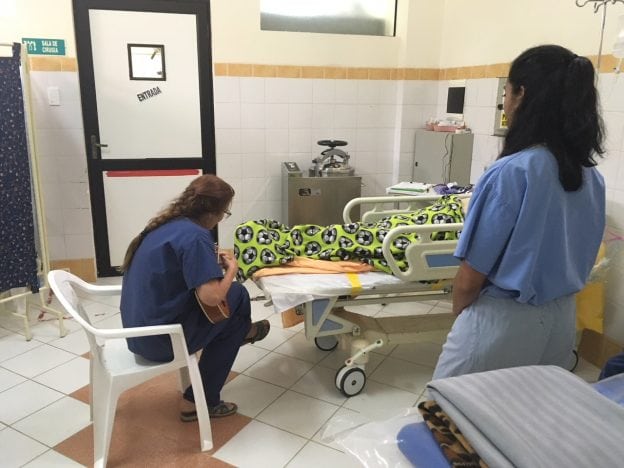 Unfortunately, last year we had to turn down a few patients for surgery. One was turned away because his hernia was so large our surgeon did not feel comfortable repairing it with the limited resources offered in Portachuelo. Thanks to a generous American donor NAVMC allocated money toward the surgeries and/or workups for all the patients we were unable to perform surgery on in 2017. Collaborating with the clinic in Palacios and a trusted Bolivian surgeon in Santa Cruz, we have already paid for a patient's cervical biopsy and hernia surgery.
This is an excerpt from the very kind hand-written thank you we received from one of these patients:
"I have been blessed with umbilical hernia surgery and am already home recuperating. I want to thank all the people that form part of the group (NAVMC's surgical campaign.) God willing, there will be more people that receive this level of help because it is very important and necessary for us. At the same time, I am committed to collaborate within my capabilities with you all to help the center (CMHP and surgical campaign) to grow (so it may help others.)"
The team is always overwhelmed with the offer of help from those previously touched by our surgical campaign. It is not uncommon for patients from previous years to make the trek to the hospital in Portachuelo on clinic day to thank us in person. Their hugs and gratitude mean the world to us and we always love hearing follow ups on our patients.  We hope to send at least two more patients for surgery in Santa Cruz and perform a much needed cardiac work up on another so that she will be ready for surgery when we arrive to Bolivia this November. We hold ourselves to the same standards, whether we are in the US or Bolivia, to always ensure our patients receive the highest quality of care.